Identity Theft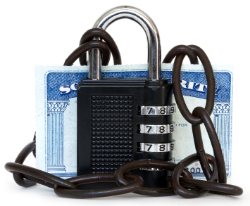 Identity Theft - is the fraudulent use of your personal information. Typically your social security number (SSN) or bank account number is stolen and used to commit fraud or theft. The thief can then use this information to apply for loans and credit cards, access your bank account, buy cell phones and rent an apartment. In the worse-case scenario, a thief could apply for a job or commit a crime under your identity. 

How is Information Obtained?
There are various methods that thieves can use to steal your information. It may be high-tech or low-tech by rummaging through trash or hacking into your personal computer. Some examples that an identity thief might look for are:
E-mails containing links to bank sites or government sites that entice you to enter in your user ID, password, SSN, etc.

Lost or stolen purses, wallets, briefcases which contain personal belongings.

Mail theft - credit card statements, checks, tax information, pre-approved credit card offers, bank statements, etc.

Personal information taken from your home (theft) or home computer (phishing/viruses).

Information stolen from third parties - files from offices where you are a customer, employee, patient or student.

No reputable business will ever email you requesting that you update your personal information, including account numbers, system passwords or social security numbers via a link to their site.

If you are unsure that the request is valid, open a new Internet session and manually key in the business' web address. If the business genuinely needs information from you, they will have you log into your online account to see the request. In most cases, you'll just be greeted with a message indicating that the business will never e-mail you requesting personal information.

Minimize Your Risk
Now that you understand how identity theft can happen, the following guidelines will assist you in lowering your chances that could happen to you.
Order a copy of your credit report from each of the three major credit bureaus. Contact Equifax (800) 525-6285, Experian (888) 397-3742, or Transunion (800) 680-7289 once a year to ensure they are accurate. You may receive a free annual credit report

on an annual basis. Some like to request their report from just one agency every four months, cycling through the agencies to stretch out the monitoring. 

Utilize the services of companies that offer proactive identity theft monitoring.

Remove your name from pre-approved credit card offers by calling (888) 5-OPT OUT. Note: You will be asked to provide your SSN which the consumer reporting companies need to match with your file.

Protect your PINs and other passwords that allow you to access your credit cards, ATM cards and financial information. Avoid using easily available information like your mother's maiden name, your birth date, the last four digits of your SSN, your phone number, etc

How to Avoid Identity Theft Online
Beware of Phishing Scams: Don't Take the Bait
Using Social Networking Sites: Be Careful What You Share
For Parents and Caregivers: Tips for Protecting Your Child's Personal Information