Career Opportunities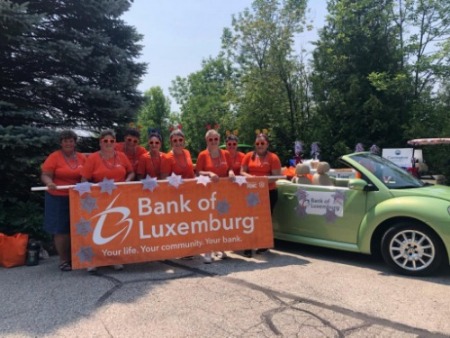 At Bank of Luxemburg our mission is to have a positive impact on people's lives. We achieve this by employing talented individuals that positively impact the communities we live and serve.
Bank of Luxemburg is an Equal Opportunity Employer. Interested in working at Bank of Luxemburg, click here to view our current openings or to sign up for job alerts.
 Why work at Bank of Luxemburg?

Excellent Benefit Package
-Vacation/Sick Personal Time/Holidays
-Insurance (Health, Dental, Vision, Life, LTD)
-Retirement Plan
-Education Assistance
-Employee Reward Program 
-Sales Incentives
Great Culture

Community Involvement 
What our employees think about working at
Bank of Luxemburg...
"I like working for Bank of Luxemburg because they always put the customer first! They encourage sharing ideas and giving input to continually improve. The ideas are always listened to and considered. It is great to know we have a say and our input is valued!." Barbara P. (Retail Sales Office Manager) Sturgeon Bay Branch
"I'm a people person and enjoying helping and meeting the customers financial needs. I enjoy developing a working relationship with the customers and co-workers. Working at The Bank Of Luxemburg gives me great pride in being able to serve the community." Laurie J. (Customer Service Supervisor) Kewaunee Branch
"I love working at the bank of Luxemburg because everyone is here to help and provide friendly service. I enjoy growing with a bank that cares about employees and their career goals." Daymay P. (Relationship Banker)

 

Bellevue Branch
"I'm very thankful that I work for Bank of Luxemburg. Here, I'm allowed the flexibility needed to balance my work and life schedules. Our work environment is fun, yet challenging, and individual and team accomplishments are recognized and rewarded. My co-workers are great to work with and management encourages and supports me in reaching my career goals. Leadership is open to ideas for improvement and change. Plus, we are allowed additional time away from work to volunteer in the communities which we work or live. What else could I ask for?" Jake D. (Commercial Loan Officer) Bellevue Branch
"I enjoy my co-workers at Bank of Luxemburg. Everyone is genuine, caring, honest, energetic and fun to work with." Jenny J (Loan Operations Specialist) Main Branch