Credit Insights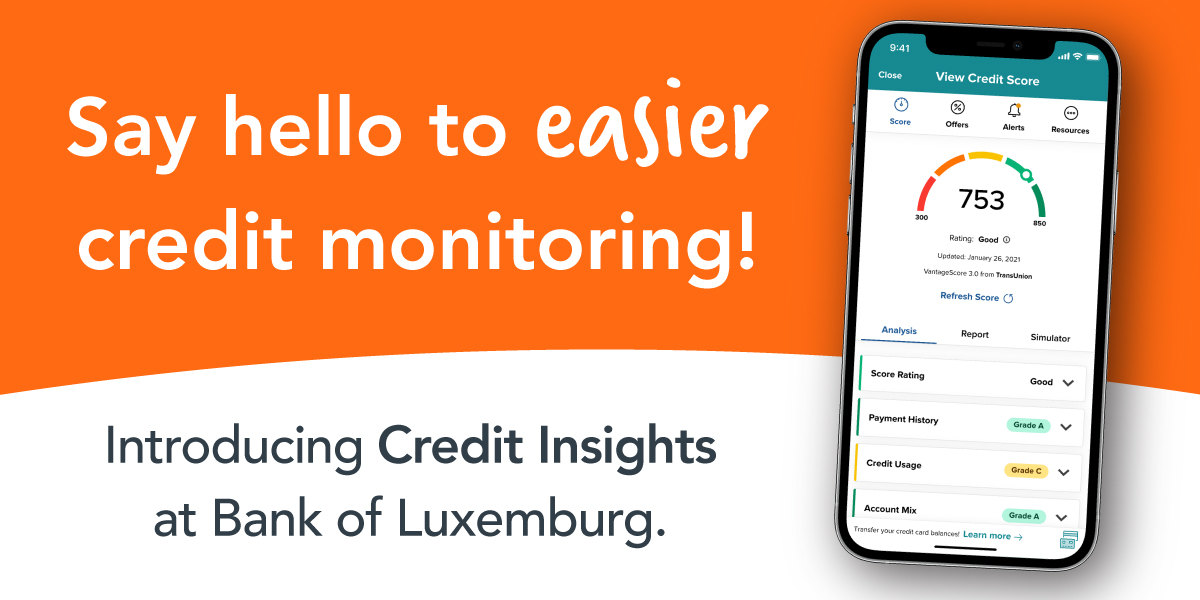 Learn more about Credit Insights by viewing the video!
---
Integrated into our mobile app, Credit Insights is a credit score solution that makes it easy to monitor your credit and improve your overall financial well-being right from your mobile app. Some features of Credit Insights include:
One-Click Enrollment – Sign up with a single click via your mobile banking app.

Personalized Credit Reports – Scores update automatically on a daily or monthly basis using soft pulls that won't affect your credit score.

Report Card – Breaks down your report into categories and recommends tailored advice for improvement.

Alerts – Get notified to any changes in your account, including new account openings and potential fraud.

Trending – Shows changes in your score since enrollment and see how your score compares to others in your region.

Savings Opportunities – View your pre-qualified offers from Bank of Luxemburg that would offer savings opportunities over current loans and debt consolidation.

Learning Blog – Learn about various financial wellness topics.
---
To enroll into Credit Insights, simply sign into your mobile app* and
click view your credit score to receive immediate access to your credit info!
*Must be enrolled into online banking to access our mobile app.
---
At this time, Credit Insights is only available via our mobile app.